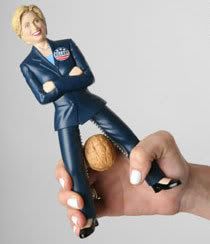 For fuck's sake.

Seriously? Are we still making jokes about Hillary Clinton being a man-hating bitch? Really?


The Hillary Nutcracker, which sells for $19.95, is quickly becoming the most Hill-arious joke of the campaign trail.

The 8-inch plastic figure captures Sen. Clinton in all her walnut-crunching glory, with steel-lined legs ("stainlesssteel thighs!") that can pulverize even the hardest shells.
Well, okay then. I'm going to go listen to my Sublime albums and put on my Doc Martens, since it's apparently still the '90s. Maybe I'm overreacting, but until somebody makes a Mitt Romney package of condoms for multiple wives or a John McCain paddle for
little jerks
I'm going to be kind of sore about this.
[via the
Daily Intelligencer
]