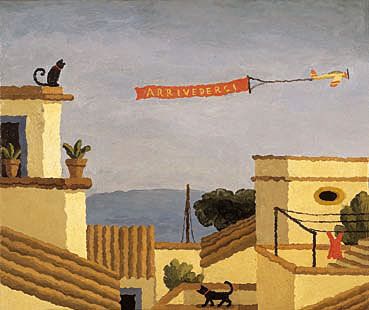 My bags are packed (mostly). I'm ready to go. I leave on a jetplane in less than twenty-four hours.
Hooray!
I love guidebooks. I still have the
Let's Go
from London when I went in 2002, and I like keeping them as a memory of what a city was when I went there. I have been reading my
Rick Steves
guidebook today. I recently got into Rick Steves (damn you, PBS!) and I prefer his writing style to the
Let's Go
book Alicia bought (at my encouragement). Rick Steves reads like a storybook, a promise of all the adventures you'll have.
Let's Go
is more of a factual, occasionally funny look at a city. As my neighbors played their chords long into the night, I talked to the Whatever about the merits of Rick Steves.
"That guy has the best job ever," the Whatever said. "You should aspire to that kind of travel writing."
"No kidding. I hate him. But he does wear pleated pants a lot, and I can't do that for any job."
"He also gives off a hint of a child-molester vibe."
"Yeeeeeeah," I sighed. "He does. But his tour book is great."
"'The best little boys come from France.'"
"Ewwww."
"Are you packed yet?" The Whatever asked.
"NO! I mean, I have stuff in my suitcase, but there's way too much stuff. I have to unpack it and actually think about what I need. I am having a meltdown over here. WHICH WOULD ABATE IF MY NEIGHBORS SHUT THE FUCK UP!"
"Well, you said they go to Berklee. They must play whole songs from time to time."
"NO, they do NOT. THEY FUCKING SUCK."
"You know," the Whatever said, attempting to change the subject, "I watched a woman give packing advice on Rick Steves' television program, and she said to bring a scarf. It was really quite lovely. Like a sarong."
"I don't want to wear a sarong. That doesn't work in a city. And I'm not a fifty-year-old woman."
"There is nothing wrong with a scarf. Rick Steves said so."
So tomorrow I depart for Italy, sans sarong. I do not plan to update from there since I am not that huge a dork, and will not be able to tear myself away from
cappuccino
(not after 11am!) or wine (anytime after 11am) to be bothered to find an internet café. But I have a digital camera (thanks, Mom) and a notebook, so hopefully I will have many good stories to tell upon my return. Have a good week, y'all, and I'll meet you back here in cyberspace sometime in March.