Hey everyone. Hope you all had a great Christmas. Mine was good-- ate too much on Christmas Eve, had gas, woke up early on Christmas, opened gifts, went to my aunt's house, opened a ridiculous amount of gifts, ate too much food, got gas, went back home, fell into food coma for next nine hours. Yesterday I cleaned out my room and saw The Nutcracker, which was really good. But you don't care about that. You care about what I got for Christmas. Maybe you don't. But I care, so here goes.
Say hello to my little friend: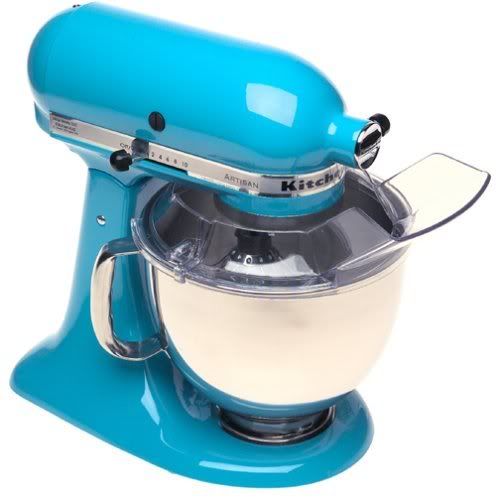 Oh yes. No more am I slave to my puny hand mixer. No more shall I toil to beat a merangue with a wire whisk and my weak arms. Now I turn this bad girl on and walk away. Many of my friends have this little beauty and swear by it. A woman who works in my office and didn't get this item bought on her registry laments the lack of Kitchen Aid in her life. So I'm doing better than The Marrieds in one way. A husband can die or cheat. A Kitchen Aid is forever.
I also got a neat little device that roasts garlic cloves in olive oil, kind of like at Vinny Testsa's. So I can make the bread dough, bake it, and roast some garlic to smear on it. My brother got me a book that was featured on the Daily Show that I haven't heard of but look forward to reading. I got my first Glarkware
shirt
and a nice sexy librarian sweater from J. Crew. And socks. I must look hungry, because my grandmother bought me a monogramed L.L. Bean tote and put Chex Mix, hot chocolate and Goldfish crackers in it.
I'm also trying out another Christmas gift tonight-- Zipcar. I signed up today, and a friend of mine is having a small party to introduce her brother to her friends, so I decided to make the epic trek down to Providence to say hello. I'll be driving a Scion. Soon I shall rent a Mini Cooper, just because. Also a Mazda 3, and drive by the Whatever's house, honking and bragging that I am driving his dream car and he isn't. I'd just have to figure out a way to hide the Zipcar logo on the door.
So if you see a sexy librarian with an ass that looks fantastic in some new jeans bought with the Christmas money she'd hoped to put toward her credit card bill, wave hello. Because it's me, if that's not clear.