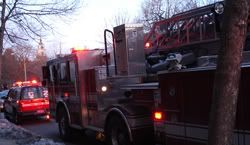 Oh noes!

So the apartment I live in was damaged by a fire. Thankfully, it was before I moved in (this time). The owners of the building fixed the place up nicely, and in my tiny studio alone there are several fire detecting apparatus. When the fire alarm goes off in one apartment, it goes off in all the apartments in the large building.

I know this very well, because for the second time in a month my neighbor set off the fire detector in the wee hours of the morning by cooking bacon. While I certainly understand a love of fried cured meats in a morning meal, come on, dude. At least today he set it off at 7:15, nearly a full hour later than the time he set it off last month while I was in the shower, mid-hair-sudsing.

Bacon is equally delicious when cooked on paper towels in the microwave, and much less smoky. If you must pan-fry your meats, open a window and keep the smoke to a minimum. Please.

My Globe delivery guy kind of sucks. I think. I can't tell if some hoodlum is filching my paper off my stoop or if he's not stopping at my apartment, but at least once a week I go downstairs to find nary a newspaper in sight. It's infuriating because instead of having an idea of what's going on as I get to work, I have to grab a copy when I get to the office and slog through it once I'm here.

Today was a newspaperless day, so I put in my headphones and spaced out on my commute. As I rode the Green Line, I noticed a guy who was holding the pole had a gnarly fingernail. After I turned away, something occurred to me.

That guy's gnarly fingernail was on a second thumb.

Not wanting to stare but desperate to confirm what I saw, I turned my head back toward the man. Indeed, there was an additional thumb on his hand. It was a short thumb, kind of only like another of the top joint, and looked a lot like a tree branch. The man got off at the next stop, leaving me with the single most strange sighting I've ever had on the MBTA.