I am not a very athletic person. Yes, I work out regularly, but I do that to keep my ass from growing to the size where it will knock over the Pru. But when it comes to activities that require coordination or grace, I am not very good.

I thought I could handle some boogie boarding at the beach on Sunday. Annette and Amy P. came down to the fine state of Rhode Island to partake in the glory that is Narragansett Town Beach. After hearing that the surf would be two to four feet high, I grabbed the boogie boards from my Mom's basement. We got to the beach and watched as the surf pounded the shore.

"Awesome," Annette said, shedding her clothes to head for the water.

Amy and I took the boards out first. Annette stood by and coached Amy in how to use the boards as I tried to get the hang of mine again. The last time I used the boards was at least three years ago when I brought the kids down for a beach day, and I'd gotten rusty. When I finally caught a wave, I rode it but tipped my nose down, shooting a heavy spray of salt water into my sinuses. Undeterred, I took the board back out into the growing surf.

A wave came at me that I thought I could handle, but I noticed I'd kind of timed it wrong. Instead of just bobbing over the crest of the wave, I paddled for it. I caught the wave and soared toward the beach. On my high-speed journey to land, I rolled or tipped the board and threw myself into the crashing foam.

I couldn't find which direction was up for a few seconds, until-- SMACK. My right cheekbone hit the sandy bottom of the ocean. I held my breath until I could get my feet below me again and stood up in the relatively shallow water.

Amy and Annette laughed at me until they saw how freaked out I was. "Am I okay? Did I lose any teeth?" I asked them. (In my defense, I'm without health insurance right now, so I was making sure I wasn't looking at a huge dental bill.)

"No, you've got all your teeth," Annette said. "And a fat lip."

"And you're probably going to have a shiner on your face too."

Shaken, I brought my board back to our towels and then slowly waded back into the crashing surf. Between waves I stuck my head into the cool water to keep the swelling down. As you can see, it didn't help too much.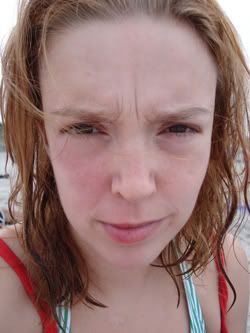 Hawtt.

I sat around, thinking of excuses for the huge shiner I figured would bloom on my face at any moment.

"I just wouldn't listen," I suggested.

"Fucking sharks, man," Annette added.

"There's the classic 'what do you mean what's wrong with my face?' line," Amy P. said.

Luckily, I haven't needed to formulate any excuses. My face looked much better on Sunday night.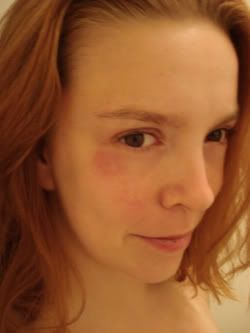 Beach hair and a semi-shiner. Why am I single?

Nobody's noticed my injury unless I've pointed it out to them, which negates all the cool excuses my friends and I developed. So I am pointing it out here to warn you that if you are thrown from any board to put your arms over your head to protect your face. That way, you won't have to explain how you got that bruise on your face and spraying liquid all over your bathroom because you lip is still kind of swollen.