At work today we had some hamburgers and beer for lunch. After the employees feasted on the delicious meaty and/or veggie burgers, we found ourselves with eleven leftover burgers.

"What do we do with these burgers?" asked one coworker.

"Maybe bring them to the post office?" Someone else replied.

"It would be nice if the Pine Street in were near here." Someone added.

Determined to unload the burgers on hungry people who could appreciate them and not unload them into a garbage can, my coworker Feifer and I decided to leave the office and try to peddle nine (a couple people took burgers on our way out) burgers on the public at large.



"Free burgers!"

As we stepped out of the office, a crowd of four people stopped as we announced our free burgers. They were initially suspicious of a couple of giggly people with an unmarked sack of hamburgers, but hunger won out.

"I haven't eaten breakfast yet," one of the women told us as she grabbed a burger.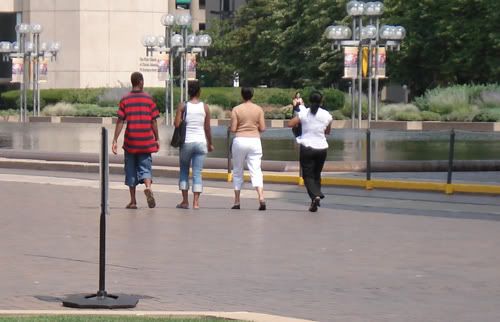 We walked down Mass Ave., calling for people to liberate our burgers. One tourist came out of one of the Christian Science Center buildings and told us in broken English that she was on her way to buy a burger anyway, and thanked us. A man in a Yankees hat turned us down, but smiled and said, "You guys are nice."

After a while, we were down to one burger. "This is going to be hard," Feifer said, "because if you come up to me with a collection of something I like and offer it to me, I'll probably accept it. But if you said 'Do you want this particular item?', I probably wouldn't take it."

It turned out he was right, and despite our loud calls to the tourists around us, we returned to our office with one lonely hamburger in a big plastic bag. Luckily, one of our coworkers took it and all the hamburgers found a loving stomach today.