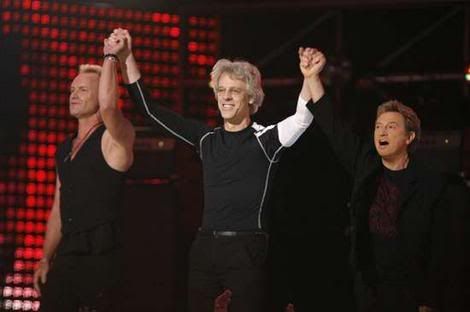 YES!

It's official, kids.

THE POLICE ARE PLAYING FENWAY PARK ON MY BIRTHDAY!

You know the drill. If you happen to find yourself in possession of a ticket, please think of me. I will pay up to $300. My coworkers and I have a multi-pronged attack plan involving the dissemination of credit card information, standing in line, calling on cell phones, sending carrier pigeons, rocket flares, and maybe even feigning a terminal illness to get ourselves into this concert. All rational thought has gone out the window. I will pay tons of money I don't have to see a band I have no recollection of during their first spin of fame because I was a toddler because THEY FUCKING ROCK.

Stop me if you've heard this before, but I became familiar with the Police when I bought their Message In a Box collection on tape for $20 at the Wrentham outlets. The set has every song from every album, along with some live versions and the infamous "Don't Stand So Close to Me '86," the recording of which was the straw that broke the band up. The tapes lived in my car for my freshman year at URI. I'd listen to the "new" Police tracks for a while, then change the tape for the grittier sound of their early days. I always mourned the fact I'd been born years too late to catch them live in their heyday. This concert will be a way for me to experience that in a way, even if I am years late in arriving to the party.

AND IT'S MY BIRTHDAY! How are you going to deny the birthday girl all she wants for her birthday? Nobody likes a pouty 26-year-old.