Today, it finally got warm out. Looking out of my Mom's living room window onto the field showed the first signs of spring. The grass was dewy in the rising sun, so bright it was almost blinding. It was still cool outside when I went to get the newspaper, but by the time I went shopping I finally got to roll the windows down and drive. Of course, today the radio wasn't playing any great music, which was too bad.

Everyone else must have gotten spring fever and went to the beaches or the bike paths, because Target was dead. It was great to go and take my time, browsing through the aisles of clothes and various dodads. I bought myself a raincoat that properly fits and a couple of flouncy skirts for when the weather gets nice. After Target, I remembered some cute shoes I saw in a Kohl's ad, so I decided to go there. I didn't catch any evidence of the shoes, but I did pick up a pocketbook for half off (a cheapie, but they can't all be pocketbooks from Italy) and some bras. Of course, once I got home I realized I'd picked up a 36B instead of my newly minted 34B, so I'll have to go back.

While I was at Kohl's, I stopped inside the Rhode Island Mall. If you grew up or spent time in Rhode Island in the 1980s and early 90s, you know that the Rhode Island Mall used to be the cool mall. I would go with my Mom to stop at Sears and buy an applicance or some back-to-school clothes, but we always stopped at the pet store on the way out. This was the old-school puppy/kitten mill pet stores with actual pets in them. I'd fall in love with a bunny or a cute collie puppy and my Mom would drag me out. I honestly don't remember much about the Warwick Mall until they installed the carousel. After that, we all went to the Warwick Mall and the Rhode Island Mall fell by the wayside. Between the Warwick Mall's newfound cache and the Providence Place Mall, Rhode Island Mall has fallen upon some hard times. How hard?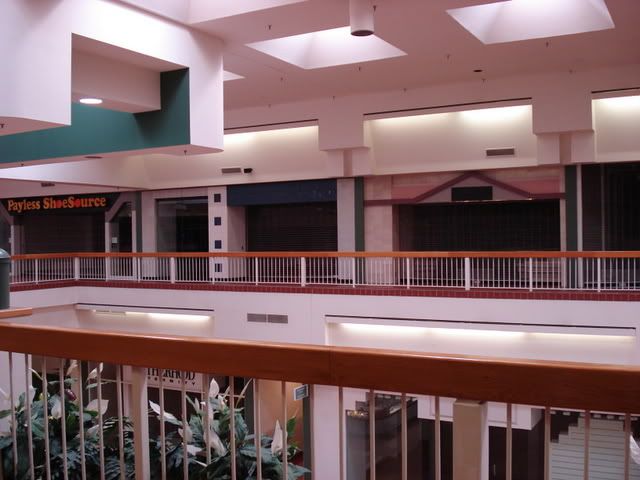 Yeah. About that hard. All the stores I could fit in my frame are now closed. Times are so hard, the Rhode Island Mall is featured on DeadMalls.com (which is an awesome website). Check out the picture there of the Rhode Island Mall back in its heyday. It makes me very sad to see.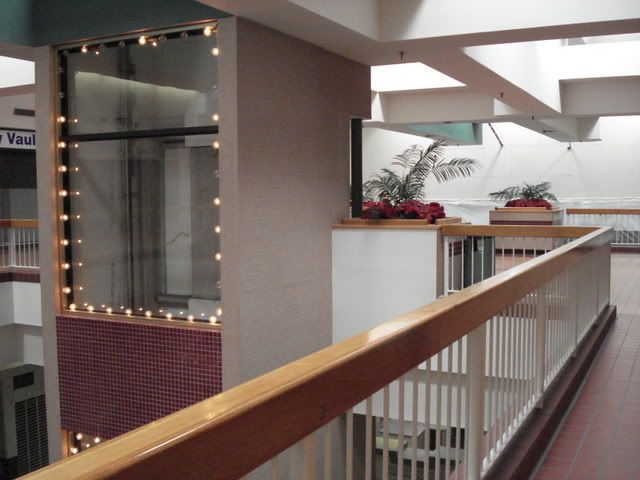 This was the "Peter-Pan" elevator. As kids, my brother and I would fling ourselves against the glass wall like bugs against a biker's teeth to watch as we ascended. "We can fly! We can fly!" We'd yell. Hey, it was big shakes for us hick kids.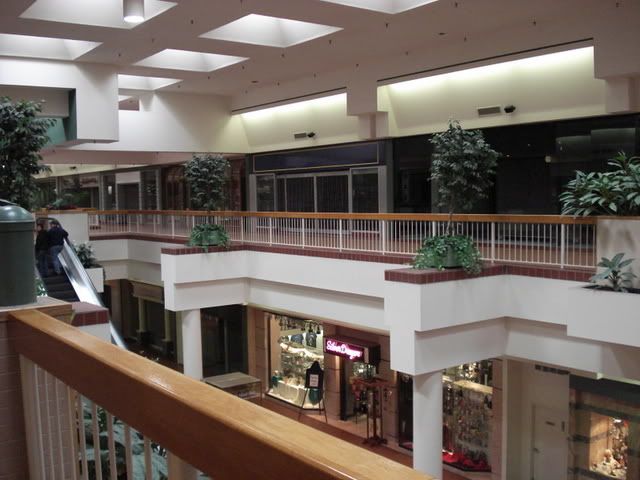 Thank God the Silver Dragon is still open. I didn't go in because I wanted to hit Building 19 (shut up), but I was sure it had closed. This store was my jam in high school. I think my Mom may have allowed me to buy my Tarot deck there and I bought countless gothy necklaces and overpriced gauzy hippie shirts there. My friends Nick and Shell and I would go there all the time so they could stock up on their pentacles and whatnot.

Yes, I was that kid. Thanks for asking.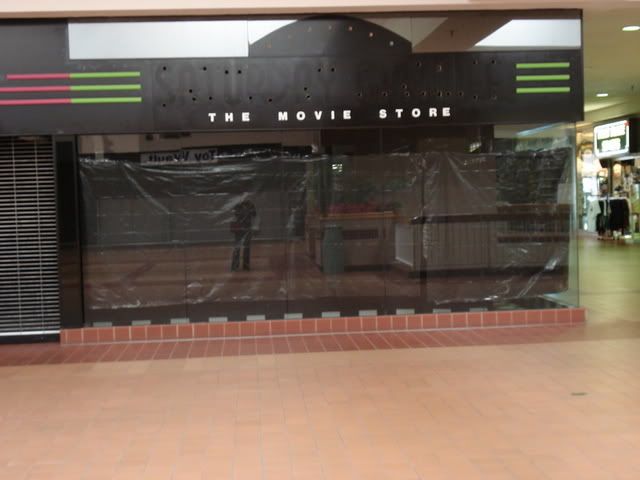 Come on. Garbage bags over the windows of Saturday Matinee? Depressing. There's something about empty spaces I find both moving and terribly disturbing. It feels almost like the public shouldn't be admitted to this empty building. The mall Newport Creamery? Gone. Food court? Vanished. Auntie Anne's pretzels? The Warwick Mall now has two.

I hope to get around to photographing the old KMart plaza a couple of towns over this week as well. I guess it depends on when my brother's around. A plan for me to stop by my old high school alma mater may also pan out. I was supposed to drink up and see my old drama club's musical today, but my friend couldn't make it. Back in my drama days, it was all about the public domain works. We did a lot of Shakespeare and Arthur Miller plays. Now they charge $10 a ticket (absurd!) and do musicals where the rights must be paid. Fascinating. However, my friend wants me to meet her at my old school (where she works). Expect more trauma-filled rants from that experience.

To finish, I'd like to leave you with a chicken/egg scenario.



Which came first, the crib or the liquor? This sign may be one of my favorite things about the Ocean State. No lie.