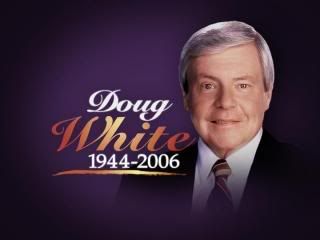 For the second time in so many weeks, I find out news from people Googling my blog instead of major news outlets. Turns out Doug White, the evening news anchor in Rhode Island for longer than I've been alive,
has died
of cancer.
"We can''t imagine our newsroom without him,"" his former co-anchor, Patrice Wood, said.

As anchorman on Channel 10 for so long, White was also the trusted face of local broadcasting for thousands of Rhode Islanders.

"There are not many people in a TV market who become an icon the way Doug became an icon here,'' Channel 10 meteorologist Gary Ley said.
I know it's a stupid thing to be upset about someone dying that I barely know. But it seemed like I knew him in a way. He was always on the 6pm news. He had a comforting, steady voice. He didn't hop networks like many Boston area anchors do (imagine my surprise when I saw Chris May on channel 4 instead of channel 7 the other day). He and Patrice Wood had the best hair in news. It's equally as stupid to worry about this girl I went to high school with, who swore she would one day meet and propose to Doug White. She did eventually meet him, wearing a t-shirt emblazoned with his image, but didn't propose. I hope she's holding up okay.

Pair this with the news that my coworker's father died yesterday of cancer (not Doug White) and it's kind of been a downer of a day. Add in a dash of our local baseball team who shall go unnamed Hoovering up the joint, and it really sucks. I'm going to take solace in my work now.