Man, I want to audit Professor Chafee's class.

Chafee starts in January as a distinguished visiting fellow at Brown's Thomas J. Watson Jr. Institute for International Studies.

In his new post, Brown said Chafee will lead an undergraduate study group on U.S. foreign policy and will work on writing projects.
Well, at least he'll be keeping busy.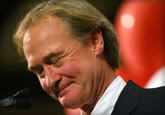 I believe our children are the future...