Awwww, Tom. There, there.

US Weekly reported yesterday that Tom Brady and Bridget Moynahan have broken up, ending a relationship that once seemed a good bet to end in wedded bliss.
If ever you need comforting, just come and find me. (And, you know, pretty much any other woman in New England. But I rock the cute/dorky line like you do. And I'm sure my Mom would like you! And I'm not really "focusing on my career" so by all means, I'll just pad around the Comm Ave condo. I'll cook you good meals. Iron your shirts. Rub your feet. Whatever you need.)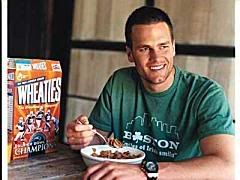 God, suddenly I want to eat all the Wheaties in the world if that man comes with them.