I got home yesterday afternoon and was wickedly stressed out. I spent too much money at the grocery store was was ruminating on my ever-increasing debt. I opened up my mailbox and was delighted to find the July issue of Elle waiting for me. I was downright giddy when I saw that Kelly Clarkson was on the cover.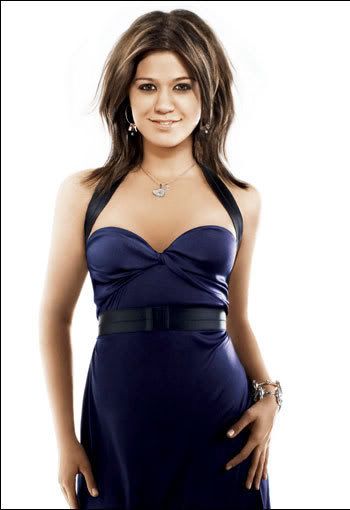 Kelleeeeeeeeeeeeeey!!1!!

Kelly Clarkson could kill a puppy, skin it, and eat the skin raw in front of me and I'd still think she's the coolest chick on the planet. Luckily, Allison Glock also thinks Kelly is the coolest girl ever, and the piece is aimed at those of us who are a hair too excited for Kelly's next album.

"I love my friends and my family," she explains, taking a bite of a Triscuit, her lunch. "But I have never said the words 'I love you' to anyone in a romantic relationship. Ever."

I just... I just want to go out and get totally wrecked with Kelly Clarkson. I want to get guys to buy us drinks but not give out our numbers. Even though she can sing circles around me, we'd sing karaoke from the top of the bar. I want to have late night/early morning drunken discussions over scrambled eggs and stale coffee about how men have screwed us over. I love how Kelly Clarkson is not afraid to be pissed off and bitter, that she's got the balls to be a female pop star who doesn't starve herself, and that she stood up to Clive Davis. While I don't agree with most of her sartorial choices, she looks fucking fierce in the Elle shoot. I'm totally going to hang pictures of her up on my fridge and start one of those internet countdowns for when her album comes out.

Next week, I discuss my experiences in responding to a restraining order. Stay tuned.