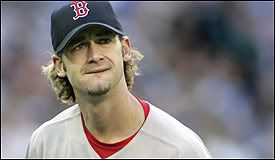 Bronson and I both question fate for wounding Gabe Kapler.
If I'd been there, I'd understand. Gabe would be looking in the stands for me, drunk on Lebatt Blue and flashing my boobs at him. Instead, I can't explain it. Some sort of coordination exchange rate problem? Some kind of forigen karma throwing Kapler's game? I can't make excuses. I can just be sad.
I found out this morning as the alarm clock radio played as the Whatever and I got dressed. "A win for the Red Sox, but Gabe Kapler is out for the season with a ruptured Achilles tendon."
The Whatever turned to face me, and my lower lip was already out. I resisted the urge to exclaim "Gaaabe!"
The Whatever rolled his eyes at me. I patted him on the arm. "If you ruptured your Achilles, I'd be actually crying."
"Oh stop," he replied. "You're going to cry when you get to work."
To be fair, I didn't cry. But I did ramble in a high pitch to Kristen about how much it sucks. Let us remember Gabe, who was with us for such a short time this season but made us all so very happy: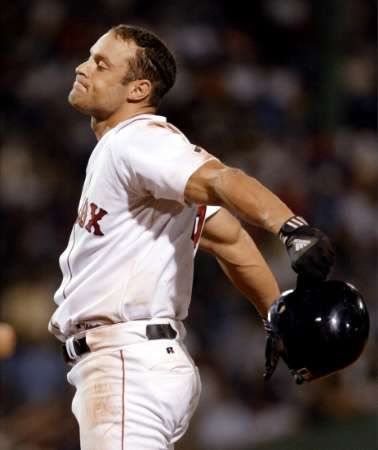 Billy Mueller is not taking it well either.


I just really wanted to use some Sox pictures. Because I'm a goober. You can remember Gabe here too. Wowza. And, also, babies!