Add this to your list of favorite ghetto beers right now.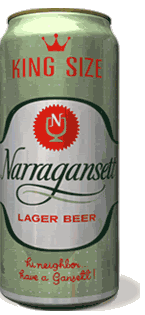 How can you say no? The cute can. It's
king size
, for the love of Pete. And, you'll be supporting a Rhode Island institution (even if the brewery is elsewhere, boo). Also, if you've ever taken the Green Line to Kenmore, you'll see the familiar Narragansett logo as the "artwork" over the benches, slightly obscured to avoid copyright infringement. If it's good enough for long-suffering Sox fans, it's good enough for me.
I actually had one of these beers this summer while sitting on the deck of George's of Galilee, another Rhode Island institution. I wanted something cheap to start the night off, and went with the local favorite. It tasted cheap, but the gold can and plastic cup the waitress gave me didn't lead me to have any lofty expectations. My friend, another native, reminisced about her uncles drinking Narragansett beer at family gatherings. Support your fellow New Englanders, y'all.