I live in a boiler room. Someday, when I am old and have a mortgage payment instead of rent, I will tell my expensive little spawn that once upon a time, when his/her mommy was poor and single, she lived in a boiler room. It was big enough for just her and after living with crazy people for five years, she'd had it with roommates. She would get yet another part-time job to make ends meet, knowing that she would have nothing but solitude when she arrived home from a twelve-hour workday. It made her happy to be alone at the end of the day, when mommy was young and poor.

However, my happiness is rapidly being threatened with the mechanics of living in a boiler room. Being that mechanics come into my apartment to fix the boiler from time to time. I came home on Wednesday to a mess of black footprints by my front door, all my clothes shoved to one side of my closet, and some of my shoes in a heap at the foot of my bed. I didn't know what had happened, but someone had clearly been futzing around in there. Last night, repulsed by the garage-like appearance of my floor, I took out the mop and scrubbed at the footprints. Turns out, it wasn't dust or soot that was on my floor, but oil. I scrubbed the floor a couple times, but it still looked grimy. I used the Target brand magic eraser, and it's still grimy. Grumbling, I put my cleaning supplies away and went to bed.

But I couldn't sleep. I thought about the direction my life is taking, and how I want to make a big change. I tossed. I turned. I was half asleep when I heard a scssstrch in the corner of my room. Oh, I know that sound. Scssstrch. As I tried to pinpoint the sound, it moved across the room. In the ceiling.

There are rodents in my ceiling.

I turned on the light when the noise stopped for a moment, and it began again. Little claws clacking across the drop ceiling. Deathly afraid that a mouse would go all Mission Impossible and dangle from my ceiling, but unable to do anything about it at 1:30am, I put in my earplugs and threw the blanket over my head.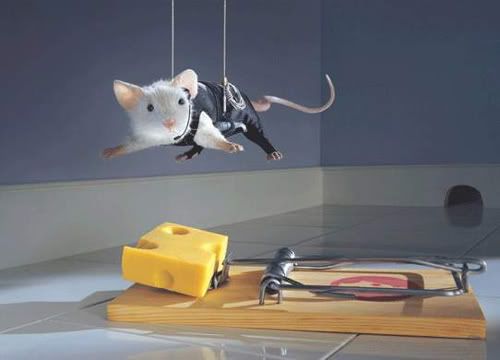 I hate vermin, but if this happened I would laugh my ass off.

I began to relax and doze off. Just then, a thumpthumpTHUMP went across my ceiling. Since I had the earplugs in, I couldn't tell if it was happening in my upstairs neighbor's apartment or in the ceiling. It sounded like two creatures fighting and chasing each other, and it ended with a CRASH and an honest-to-God speck of ceiling falling onto my bed. I let out a scream, deathly afraid it would be a mouse head on my bed, and got up to take a Tylenol PM to drug myself into sleep.

I'm going to call the landlord, clearly, but I'm already trying to figure a way out of my apartment if I have a winter-long stretch of Mouse Gladiator happening above my head on a nightly basis. Also discouraging was this article in the Globe today about rats the size of preschoolers running around Back Bay. Maybe it wasn't my neighbors fighting a mouse on their floor, but two giant fuck-off rats dueling to the death above my head. If I see a rat, I will be moving back home. End of story. A mouse in the house is one thing. Splinter is entirely another.