Am I the only one who's really, really wanted a spinach salad after all this talk of E. coli bacteria?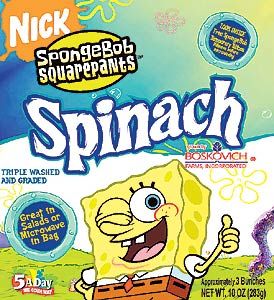 SpongeBob tries to make little kids poo, but in a bad way.

I am not being sarcastic. I was at Shaw's yesterday, and the section of bagged spinach was empty and sad looking. Spinach salads are wonderful. Bacon, blue cheese dressing, hard-boiled eggs? Perfect. Apples, walnuts, blue cheese? Delicious. I want nothing more than to wilt some spinach in a pan with olive oil and heaps of garlic and eat it on pasta. I did buy some frozen spinach that I can sautee in a pan, but it's not the same. I bought some lettuce to make a salad, but lettuce is watery and crunchy. Spinach lets you know you are eating a vegetable with its thick leaves. Lettuce is filler. Spinach is the main attraction. So let's hope they find what cow or pig farm sprung a leak on the spinach fields soon so we can enjoy our spinach once again.