It has come to my attention that today would be the ninetieth birthday of children's author Roald Dahl.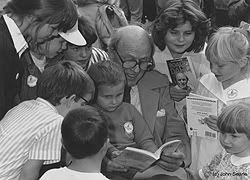 I love Roald Dahl books. I think the first one I ever read was Charlie and the Great Glass Elevator. I vividly remember the green paperback on my grandmother's bookshelf, and I would take it down and read it when I went to her house. I loved the sloppy illustrations, the poems, the made-up words that Dahl clearly had a blast writing. I then read James and the Giant Peach and the BFG. The kids in the books were always so capable in the face of horrible adults and trying circumstances. My absolute favorite Roald Dahl book was Matilda, the story of a girl whose family hates her and doesn't recognize her intellectual brilliance. She uses telekenetic powers to wreak havoc on her family and the headmistress of her school, who won't advance her to a higher grade. It's almost a Carrie for the under-15 set. I had no problems with my family, but the principal of my school was an asshole, so I totally recognized how Matilda felt. Also, her mild-mannered teacher, Ms. Honey, reminded me of my mild-mannered second grade teacher who I liked a lot.

The article about Dahl's birthday sites him as being the first to make a name for himself in well-written children's literature, not JK Rowling. Of the two Harry Potter books I've read, I can see the similarities. Both authors use adults as either bumbling or evil foils to the wiser children. Both Rowling and Dahl use elements of magic. Both like to make up words and have fun with language. Maybe it's because I'm an adult now, and one who doesn't really dig sci-fi books, but I can't get into Rowling as much as I did Dahl. If there are any parents in the crowd, make sure your kids at least try a Roald Dahl book. Odds are they'll love it.