Upon opening boston.com today, I was greeted with this headline:

And I laughed.
Yeah, I know that he and Katie are "engaged." I keep posting about this because I think the end of days will occur if I keep expressing my general disgust with their "relationship." Perhaps we need a new word for them? Stuntship? The more I post, the worse it gets. I mean, the Eiffel Tower? Cliche, Tom. How about the Empire State Building? Or the Tower of London? Gitmo? Branch out a little, brother. I wager by next week Tom and Katie are pregnant, and will have a TV show on UPN documenting their love. Hell if I won't watch it. As long as it doesn't conflict with
Being Bobby Brown
.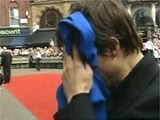 Oh Tom. We've all been there. Some jerks just like to get it on your face.