Let me say this: I am proud of how I look. Thanks to the talents of my friend Amanda and the elliptical machines at my gym, there is far less of me than there was a year ago. (If you'd like Amanda's info, let me know. She's her own business!) I'm no America's Next Top Model (I'd like to think it's because I am too short, not a "side of beef") but I'm not fat, and definately not ugly. So, in theory, most clothes should look pretty good on me. Communism is also a good theory, and we know how that goes. Fresh off my Saturday trip to the mall, here's my problems with spring's fashions.

Problem One: The Silky Halter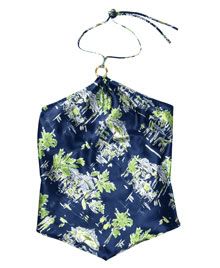 I tried this fashionable shirt on at Old Navy. My larger-chested friends tell me I'm lucky to have the little boobs I have. My paternal grandmother looks at my chest and says "I'm glad you've got something on there from your mother, because you sure didn't get those from our side." Apparently, I'm somewhere in the middle. I put this shirt on and was initally impressed. It was comfortable and light. I imagined myself walking through the city at dusk, getting whistled at by Red Sox fans. Then I wiggled along to the jet-engine decibel level song blaring from the speakers and noticed a huge problem with the shirt.
My boobs looked saggy.
I am twenty-three years old. I work out. I can do pushups (all part of my master plan to become a surfer this summer). I lift weights and, as mentioned, I've got some small B-cups. Somehow, in that dance move, I looked like a Grateful Dead groupie crossed with a Parrothead. I paced the changing room like a caged lactating panther, and noticed that with every move I made the boobs looked saggier and saggier. I'd need to wear a bra, but even a strapless would be noticable under the silky fabric. I sighed and removed the shirt, sad to let the cool pattern and silky feel go in the reject pile.

Problem Two: Commit to Shorts or Capris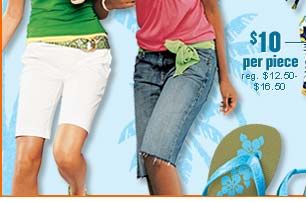 I don't know who thought these shorts were a good idea, but they should be given what-for. Even the model's legs look ugly in these shorts. I think stopping a tight short right above the knee makes the knees, calves and thighs look huge. It works in a skirt, but not as a short. Either wear shorts (ending far above the knee) or capris (ending slightly below the knee). The Bermuda zone should be avoided at all costs.

Problem Three: Strapless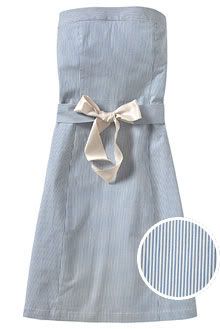 The strapless dress is my friend. I have huge shoulders that look good when exposed, and my arms aren't that bad. Also, the little boobs don't fall out of the top, so I usually have luck with these. I dismissed my bad luck with the silky shirt as a fluke, and tried this dress on.
I liked the fabric (I had to suppress the desire to rip that fugly bow off before even putting it on) and I was optimistic, but once it was on I noticed I'd developed something like armpit saddlebags. Under both of my shoulders, right at the pit, there was a blob of skin hanging over the top of the dress. I pushed the skin in, but, like a weeble-wobble, it wouldn't stay down. Maybe it's not that bad, I thought. I did a dance move. I removed the dress.

Problem Four: Where'd They Go?
(Sorry for the lack of illustration... H&M doesn't use jpegs on their website. Friggin' Europeans.)

Since there is far less of me, I can now fit into clothes from H&M and not look like a sausage that should be claustrophobic. I'm digging the hippie, excuse me, "bohemian" style this season, so I tried on a gauzy rayon dress. It had spaghetti straps, was low-cut with ruffles on the bottom. It looked cute, but I felt like I was missing something.
Imagine, if you will: the butt looks good. Everything is zipped with room to spare. But the boobs, the mammary glands that looked so impressive in the shirt I wore into the store, were gone. There was a chest, a flat expanse of desert much like the backdrop the models on the H&M website are shot against, that empties out into the greenish-blue sea of the dress, with only the slightest crest of a wave in the top. I lifted my arms to see if my breasts were there. Not much. Just a mere peep, a suggestion. I didn't look bad, but I expected more.

I think before I purchase any shirts or dresses for this upcoming summer, I'm going to have to make a stop at my neighborhood Victoria's Secret and allow the saleswoman to measure me and tell me what to wear with all these various shirts so I don't look like a feminist stereotype. I dread those saleswomen. As soon as you're fifteen feet in the door, getting used to the explosion of lace and pink, they're snapping their official tape measures and asking you if you need measuring. Or, you have to beg them to help you, and I always feel like a twelve year-old buying tampons for the first time when I do that. Being a girl is hard...