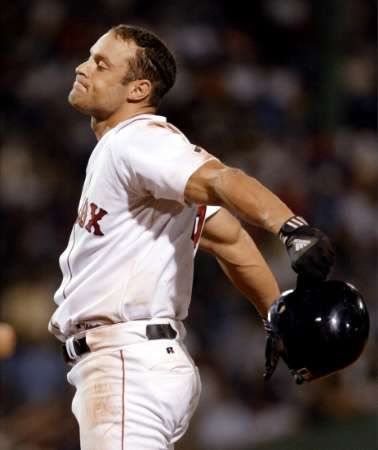 Uh... Johnny who?
That's it. I am going to meet Gabe Kapler. Soon. It will either be in the dugout/outfield of Pawtucket, or in Brookline. Because you know who loves Brookline? Gabe Kapler. Know who else? Me. From today's Herald:
``One of the things I missed most about playing for the Red Sox was visiting my favorite little Brookline eating establishments,'' said Kapler, who returned to the Red Sox organization this week after a forgettable stint in Japan with the Yomiuri Giants.
``My first order of business is to go to Zaftig's,'' said Kapler, referring to the acclaimed delicatessen on Harvard Street in Brookline. ``I miss having breakfast there.''
Any other hot spots?
``Anna's Taqueria,'' Kapler said. ``I'm telling you, I missed those places. They were like home to me.''
If you see a girl in a carbohydrate daze from eating bagels with lox, burritos and lots of sitting in wait for The World's Most Perfectly Sculpted Jew (apologies to Roommate and Youks), that would be me. I'll be his nanny, like Jude Law's nanny. I'll bring the kids to Anna's and cut their quesedillas into little pieces so they don't choke and I will love them and be paid in ogling Gabe time.
Seriously, I need to sit down. And I'm already sitting.