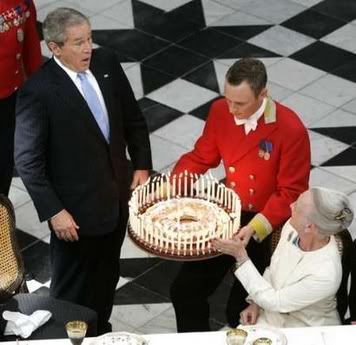 "Hot damn! Y'all really like me here in this here country in Europe. That's the most hugest damn donut I ever did see! Wow-ee!"
So the Shrub is 59 today. Unbelievable that that crack fiend made it to this ripe old age. I guess the good do die young, while the drug addicts find God, reform themselves, nearly flunk out of college and still go on to lead the free world, looking like an idiot the entire time.
My hostility towards Mr. Bush is back at the surface because of the impending Supreme Court justice nomination battle. Nothing like the horror-inducing thought of a hugely conservative court having cases for reproduction rights heading their way. I usually just shake my head and say "as you like it, America," but the second I face the possibility of finding myself without birth control pills, without the option of abortion, with kids who won't know the effectiveness of contraception methods unless I tell them is when I put on a black cat suit and get my protest on. The fact that Rehnquist will most likely retire or die soon is also frightening. That's two openings for God-lovin', women-hatin', honky-ass motherfuckers to be making huge decisions in the next few decades.
Someone hold me.