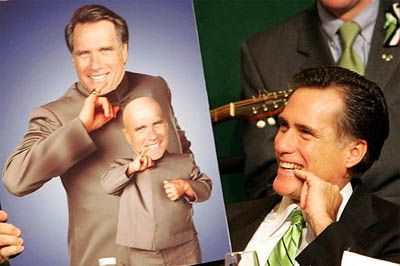 But Mitt, isn't cloning wrong as well?

I hate Mitt Romney. It started out with a mild dislike, but with his absentee governing of Massachusetts and thinly veiled hatred of abortion has turned me into a ten-year-old boy who wants to leave flaming bags of poo on the doorsteps of people who've wronged me. And with the veto of the morning-after pill, Mitt had better keep hope I don't find a dog turd somewhere.
It does wrong me when I don't have the option to choose what to do with my own body. Luckily, I've never had a scare with pregnancy (knocks on all available wood surfaces) but if I did, I want the option to take the morning-after pill. I want to be able to walk to CVS, hair greasy, my stomach about to crawl out of my throat with nerves, and have a second chance to prevent a pregnancy. I am an adult woman. It's my choice whether or not I want to give birth because it is my body and my life.
In today's Globe, Mitt writes an editorial explaining the reasons for his choice. Interesting how he's made himself so available to the media recently. Also interesting that he wrote the editorial for the Globe and not the conservative Herald. This is totally for the unborn babies, and not to court conservatives in the Red States, y'all. I really like it when Mitt makes his feelings known-- when he testified against gay marriage in Washington a year ago, he basically called kids not raised by two parents of different genders damaged goods, which, technically speaking, I wasn't. Let's reveiw the plea to the dirty liberals who read the Globe, shall we?

YESTERDAY I vetoed a bill that the Legislature forwarded to my desk. Though described by its sponsors as a measure relating to contraception, there is more to it than that. The bill does not involve only the prevention of conception: The drug it authorizes would also terminate life after conception.
...I have spoken with medical professionals to determine whether the drug contemplated under the bill would simply prevent conception or whether it would also terminate a living embryo after conception. Once it became clear that the latter was the case, my decision was straightforward.

Okay. I've tried to do some research on this argument, and the information comes from either Britain where the EC pill has been available for years, or from pro-life groups who veil themselves with neutral names but state that the cells may be dividing into a blastocyst-- the start of a baby. It is NOT yet a life, or a human. It's cells. Some people believe that's a baby, but cells are not a baby. A baby poops and cries and breathes. Cells divide. Cells can be lost, through either natural or artificial means. If the embryo does not attach to the uterus, it can't live. It is not a chemical abortion-- it prevents the cells from attaching to the uterus, so the cells stop dividing.

For all the conflicting views on this issue, it speaks well of our country that we recognize abortion as a problem. The law may call it a right, but no one ever called it a good, and, in the quiet of conscience people of both political parties know that more than a million abortions a year cannot be squared with the good heart of America.

Doesn't matter. It's between a woman, her doctor, her lover/boyfriend/whatevers, her God (or lack thereof). It is a very personal, private issue for a woman to decide. For me, I think it would be an easy choice. I can't give a kid a good life right now-- I'm broke, the bank's calling me at work to demand money, I don't own anything other than a big-kid bed and some shoes-- so I'd have to do something. Would I feel bad about it? Probably. I love kids, and someday I want to have a kid with the nose that's been handed down through generations on my father's side. But it's my body that would have to carry a baby, my wallet that would empty if I gave birth. It wouldn't matter what America's heart, good or otherwise, says. A good heart won't feed a family, Mitt.

Many women considering abortions face terrible pressures, hurts, and fears; we should come to their aid with all the resourcefulness and empathy we can offer. At the same time, the starting point should be the innocence and vulnerability of the child waiting to be born.

What? What about the person who is alive and actually has feelings? You know, the woman who is scared to death of what the cells in her womb are going to do to her? I completely don't understand why conservatives feel the need to protect the unborn while making women have kids they don't want, and cutting the programs that would help women raise their kids well.
And, here's the kicker:

I have also observed the bitterness and fierce anger that still linger 32 years after Roe v. Wade. The majority in the US Supreme Court's Casey opinion assured us this would pass away as Americans learned to live with abortion on demand. But this has proved a false hope.

THAT'S BECAUSE CONSERVATIVES WON'T SHUT THE FUCK UP ABOUT IT. God! When you create a hostile environment where people kill doctors who perform abortions, when you sneak your prolife propaganda into sex ed classes, when you veto legislation that will pass anyway because your pro-choice, gay-ass, second-rate state that you hate to govern wants scared women to have another chance before a far more frightening trip to Planned Parenthood and you sit down with every reporter-- who you know wants to fuck you because you're the hottest conservative, even hotter than GW Bush!-- to make as much of a national stink about abortion as possible for one self-promoting bastard, of course there is going to be bitterness and anger. You've ruined my morning coffee, asshole. I'm pissed! Didn't you read The Cider House Rules? Without proper doctors with training, women like me who want control of their bodies will be in back-alley establishments getting unsafe abortions, ending up in the hospital when they're botched, the state will end up paying the medical bills of the uninsured, and the women you've encouraged to give birth will end up losing programs that help them to pay for the botched abortions of other women. It's not yours to decide, Mitt. The choices should be available and, like the states whose rights you so diligently defend, the independent entities known as women can decide for themselves without the interference of a larger power.
I'd like to leave you with a quote from Margaret Sanger.

"No woman can call herself free who does not own and control her body. No woman can call herself free until she can choose consciously whether she will or will not be a mother."