Sometimes, something is just perfect. Sometimes, some perfect things wind up in more than one place. Take the Boston Red Sox. There's Johnny Damon's perfect mane of hair, but that comes with his propensity to blather on about team politics, international politics and the politics of dancing (or something). There's Jason Varitek's humorless approach to baseball (growing grass is more uproarious than Mr. Tek) which made him the captain of this ragtag crew. Then there's David Ortiz.
Come on. He's a big ray of cuddly sunshine who hits home runs at the most opportune moments. He has grown men spoon-feed him applesauce like love-sick teenagers. Just look at this guy.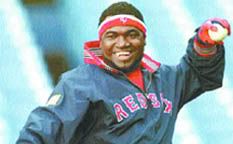 This picture should be in the dictionary to illustrate joie de vivre. In my opinion, he's not sexually hot, but I want to hug him all day long. I want to wrap my arms around his five-barrels wide chest and hold on while he goes grocery shopping like a baby koala to its mother. I'd probably kiss his forehead a few times and pinch his cheeks. This is what a man who earns millions of dollars a year to play a game should look like: happy. As
Kristen
said, some other baseball players could take a lesson from David Ortiz.
Here's the written equivalent of this picture, from today's
Globe
:
''Of course, as a human you get down," Ortiz said. ''Everything is not only happiness. Everything is not flowers and piece of cake. There's a lot of things in life that you see, that you have to face. That's life. But, otherwise, happiness."
I think, when the unpleasant proposition of Johnny leaving the Sox comes to pass (weeping) I will have to nominate Ortiz to my favorite player status. I loves me some Youks, but if Ortiz keeps that smile on his face I'll be powerless to resist. So thanks, Papi, for making my day.