Boston.com is reporting that Bellhorn's on the DL, and Youkilis is being called up. While I am sad this will affect my ability to yell "Youks!" in Pawtucket on Saturday, I am glad he will get to do his big-league thing again. I keep hoping, as the dirty rumors swirl in the dirty water, that Kapler will be back before Saturday, somehow, to make my Christmas. Or Hanukkah, as the case may be. I hope that Youks is superman and I'll be cheering Bellhorn in Pawtucket. Yeah, Steve Brady, you heard me.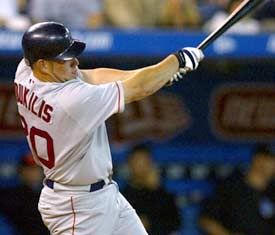 That's right, bitches.
Also of note: This made me ovulate four times. Slideshow is a must.
I promise I will write something intelligent soon. Please note you can now email me your hate mail instead of posting it in the comments section.