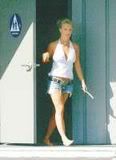 This baby's gonna have some foul-ass diaper rash if his mother's hygene habits are any indication.
Dear God, she's breeding. Britney Spears is with child. Not with the Son of all that is good (Justin Timberlake) but the Dark Lord's evil seed (Kevin Federline, who never once sang the words "I'm gonna have you nekkid by the end of this song" except in his bedroom mirror). I fear for the poor child.
"Kevin, baybe, I feel so seeeick. Go to the store and buy me some Cheetos and decaf Red Bull, baybeee."
It seems a little odd that Britney redesigned her website, got herself into the media a lot recently and announced her television show all right around the time she announced her pregnancy. Does she have a new album coming out too? Nothing like using a new life to try and salvage your train-wreck of a career.