Watch yourself, Mark Bellhorn. I am gunning for you.
From today's Globe:

How about Youkilis, by the way? He hit just .227 (10 for 44) in 12 games in Pawtucket, but in three games with the Sox this season, is batting .500 (5 for 10) with three walks and three RBIs. He delivered an RBI single in the fifth yesterday, walked twice, and began the inning-ending double play.
Yeah, that's right. "Oh, send the Greek down to Pawtucket. We don't need him." Well, FIRST OF ALL, he's Jewish. Second of all, even though his ears may not be aerodynamic and his jaw may slow him down, he's delivering. He is working hard to stay in Boston because he is a dirt dog. Also, I cannot be found in Pawtucket on most days, so he misses being so close to me.
Send Bellhorn to Pawtucket! Keep my Youkie in Boston!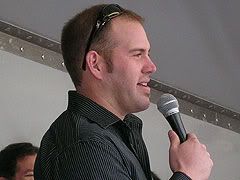 "Yes, being in Boston is awesome. I heart baseball!"